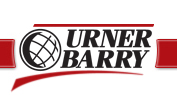 What's New


Urner Barry launches Mexican Meat Report

Urner Barry has released its weekly Mexican Meat Market Report, now available as an add-on to the Comtell service.

The weekly report is updated every Friday and can be found by clicking "Quotations" under the Red Meat in Comtell. Here, users will be introduced to a fully interactive market report with items traded domestically in Mexico.

Similar to Urner Barry's other market reports, the Mexican Meat Market report is intended to bring transparency and efficiency to meat market; additionally the report will establish a commodity benchmark for buyers and sellers both within and outside of the US and Mexico.

The report is available in English and Spanish; users can toggle between the two languages or choose to view the report with both languages displayed side-by-side. Additionally the report allows users to see prices both in dollars/lb and peso/kg.

As with Urner Barry's other market reports, users can view historical data of over 50 quoted items in the Mexican Market by clicking individual quotations in the report.

As with all of our quotations, Urner Barry is uniquely positioned to provide timely, accurate and unbiased information that allows subscribers to make better decisions using our reports.