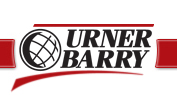 Boneless hams currently at highest premium to fresh 72's in over five years; Grilling season insights unveiled ahead of Labor Day weekend; Chicken prices highlighted; Sponsored by Eastern Poultry and Food Distributors

View the Reporter online for free: www.urnerbarry.com/reporter

For a FREE COMTELL trial: www.urnerbarry.com/comtelltrialform
CLICK HERE
to watch our
SPECIALTY BURGER TASTE TEST VIDEO
from Urner Barry's Reporter Newsmagazine
CLICK HERE
to watch our
SEAFOOD BURGER TASTE TEST VIDEO
from Urner Barry's Reporter Newsmagazine

NOTIFY ME
Would you like to be notified via email when one of our market videos has been posted? Then please click here .




COMTELL FREE TRIAL

Are you a volume purchaser of red meat, poultry, eggs or seafood? SIGN UP today for a trial of our COMTELL service to get historical data, charting, analysis, market news, continually updated market quotations and much more.

VIDEO LIBRARY

Loading Viddler Videos
Copyright &copy 1997-2012 Urner Barry. All rights reserved.